We pay attention to the details!
At 4Bros, we use the longest screws and posts we can for each application and offer threadlocker with almost every order. By doing this, it ensures the screws have the maximum thread engagement possible and you have the option of applying threadlocker to your screws after making your final adjustments.
Frequently Asked Questions
Please review our Refund Policy by following the link at the bottom of the home page. We do have a 20% restocking fee for returned orders due to the custom nature of our products.
Lead times are typically 24 to 48 hours. Some orders will be delayed due to material availability.
Please check your SPAM folder for an order confirmation email and a second email with tracking information prior to asking "where is my order".
Some left hand models will require longer than normal lead times as we are in the process of updating our tooling.
USPS packages may require more time to be delivered due to limited transportation availability.
We are not accepting custom orders or requests at this time. Holster models reflected in the product listing may not be modified beyond the standard options offered.
Visit our Blog!
---
Holster retention serves as a crucial element in the safe and comfortable handling of firearms. It not only ensures that your weapon remains securely in place but also facilitates easy...
The purpose of this blog post is to provide a explanation of the different types of Inside Waistband belt and beltless holster attachments that we use on our holsters and...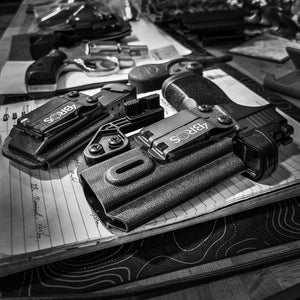 Four Brothers' mission is to serve its customers, period. We value people over profit, and it is shown in our actions every day.
Takes us to the Range with you
We can't always make it to the Range with our customers in person, but we can be with you on paper. 
Download Target